aboutme, alternatives, beauty, color, drugstore, dupes, easy, facts, fashion, five, fun, hacks, highend, hype, list, makeup, nailpolish, nails, November, personal
Dupes / Alternatives List - Nail Polish Edition!
11/16/2014 12:00:00 PM
Hey everyone!
Today's dupe list will be on nail polishes! A lot of very popular nail polishes in the list! Popular colors for a fraction of the price!
1. Chanel Vamp VS Revlon Vixen
Chanel = $27 Revlon = $4.99
2. Chanel Paradoxal VS Barry M Dusky Mauve
Chanel = $27 Barry M = $4.54
3. Chanel Peridot VS Sephora Diving in Malaysia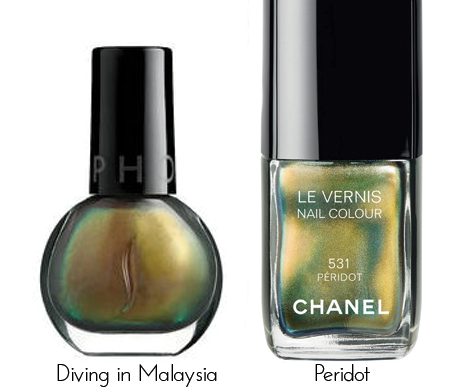 Chanel = $27 Sephora = $6.26
4. Essie Tart Deco VS Barry M Papaya
Essie = $8.5 Barry M = $4.54
5. Essie Bikini So Teeny VS Barry M Blueberry
Essie = $8.5 Barry M = $4.54
Hope you guys enjoyed! Tell me what dupes are your favorites in the comments below!
Until Next Time,