aboutme, beauty, costumes, DIY, drugstore, easy, five, fun, hacks, halloween, makeup, october
Easy Halloween Costume Ideas!
10/14/2014 09:06:00 PM
Hey
everyone!
Since Halloween is approaching, I thought I'd give you guys a list of Halloween costumes that are quick and easy!
#1 Jigsaw from SAW - I dressed as Jigsaw last year and it was so easy! I wore a black pencil skirt (can be replaced with pants), tucked in a white shirt, wore a black blazer and a red bow tie (actually was a hair bow that I pinned to my clothes haha!). All you have to do is use white face paint (I had a really light BB cream [one of my many bad choices] lying around), apply black eyeshadow and smoke it out under your eyes, draw the red spirals on your cheeks and apply a smoked out black line around it as a shadow with red lips and black lines for the puppet effect!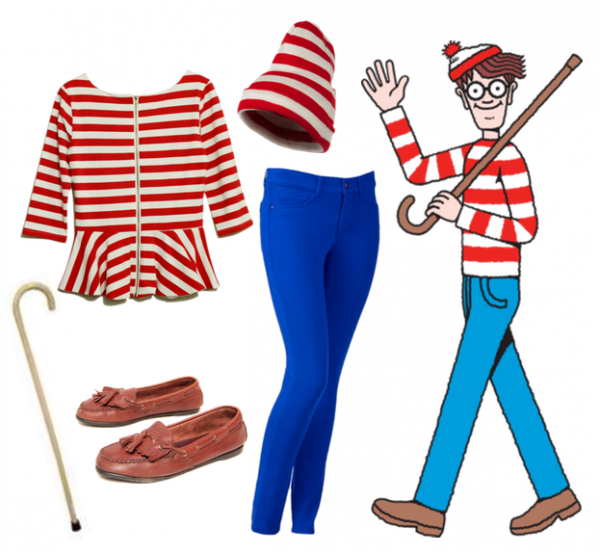 #2 Where's Waldo! - what's easier than Waldo? Just put on a red and white striped shirt, blue jeans or pants, a red and white beany and some glasses! Easy and very recognizable!
#3 Mary Poppins - just like the first costume, these things are items you probably have in your closet. A black skirt, button down shirt, bow tie and umbrella! That hat you can actually DIY by adding fake flowers and pinning them (temporary addition) or gluing them (permanent)!
#4 Daphne from Scooby Doo - this is such a cute and easy costume! Pair a purple dress with a green scarf, purple headband, and purple heels. Or you could also go as Velma by wearing a orange shirt, orange skirt, orange knee high socks, orange flats and glasses!
#5 Miranda Sings! - just throw on a pair of red sweat pants, a button down shirt, bobby pin your bangs with a middle part and apply red lipstick generously! Such a quirky and silly costume that will surely impress everyone and make you bootiful! And if anyone judges you, you can tell them "HATERS BACK OFF!"
I hope you all enjoyed this post! What's your favorite Halloween costume & what are you dressing up as this year? Tell me in the comments!
Keep in touch with me on my social media accounts linked in the upper right side of the screen!
Until Next Time,