basics, beauty, blogging, drugstore, eyeshadow, facts, foundation, hacks, help, highend, highlighter, hype, lipsticks, list, makeup, mistakes, personal, points, regret, secrets
12 Common Makeup Misconceptions!
2/14/2015 05:55:00 AM
Hey beauts!
How are you all doing today? We all have heard (and believed!) a lot of makeup myths that turn out to just be makeup misconceptions! Here are 10 common makeup misconceptions that you might have just believed or still do!
1.
Counterfeit makeup is the same as getting a dupe!
You may look at these photos now and be like "yeah those look really cheap, of course they aren't good!" Well, don't let these knock offs fool you! You can find exact replicas of some high-end best sellers! The thing is, you might feel like a palette doesn't deserve $50 (and let's face it, a lot of them don't sometimes) so you go online and find an exact replica for $10! Score, right?! Wrong. The majority (if not all) of these products are made in countries with very few regulations and don't pass health regulations. They can cause infections in the long run! Instead, find dupes from reputable drugstore brands you can buy in store or on trusted websites. Some great choices are Coastal Scents, Makeup Revolution, and BH Cosmetics.
2.
Using a dewy foundation is all I need to hide my dry skin!
Most people forget that they need to at least moisturize (and apply primer for longevity) before they apply their base. They assume a dewy foundation will do the trick to conceal dry skin. While it will help, it definitely will not solve the problem. Try exfoliating once a week to remove dead skin and make sure to moisturize before applying foundation!
3.
Only people with dry skin can use dewy foundations & only people with oily skin can use matte foundations!
Almost everyone assumes choosing foundation should ONLY be based on your skin type. This isn't always the case. You might have dry skin and prefer a matte look and vise versa for oily skin. If you have fairly normal to dry skin or controllable dry skin, you could always moisturize extra well before applying a matte foundation and just not powder it to avoid looking too matte. And for oily skin, you could begin by using a mattifying primer, add a little powder (not much so you don't lose a lot of the dewiness) and finish off with a setting spray! Now, of course if you have extremely dry skin or extremely oil skin sometimes foundation can't help but their are other options! People with dry skin could set their foundation (loose powder works best with dry skin) to avoid the dewy look and people with oily skin can apply a liquid or highly reflective highlighter and use a dewy setting spray to give them a healthy glow.
4.
Wearing one eyeshadow color on your lids is NOT okay
No one wants to look like they have a patch of eyeshadow on their eyes but the misconception of having to apply a full eyeshadow look every time is wrong. You could apply a sheer, nude or champagne color all over the lid to brighten or even apply a neutral brown in the crease just to deepen the crease without having to apply 3 or more other colors! The important thing is to make sure it's blended well and that their are no harsh lines.
5.
Blush should be applied to the apples of the cheeks
I think it's safe to assume we all thought at one point in our lives that blush should be applied to the apples of our cheeks. This is true to some extent but shouldn't be applied too close to the nose and in a circle. It should be applied below the cheekbones and above the hallows of the cheeks in a lifted motion. Applying it at an upwards angle will make your face look lifted even when you aren't smiling.
6.
High end make up is always better for you!!
It's logical to assume that because of high-end makeup's price point, it is a better choice for you as it has better ingredients! But that's not always the case. A lot of the time, high end makeup is expensive because of the luxurious packaging! Now, this doesn't mean all high end makeup is just expensive because of the packaging as a lot of them do have skin care properties and ingredients that are better than drugstore, however, the reality is that a lot of the high end brands are owned by the same companies that own drugstore brands and produce similar products but with cheaper packaging.
7.
Always use a shimmery highlight where you've highlighted with concealer
Let's say you have an oily t-zone, you'd think you would logically remember not to apply shimmer or a glow to your nose and forehead, right? Wrong! People assume that the places you highlight with concealer (under eyes, forehead, bridge of the nose, chin and cupid's bow) is the same as the places you should apply highlighter to add shimmer. This is not always the case! Some people have oily-prone skin and applying highlighter in all these areas will just make them look like an oily mess! Instead, apply highlighter on your cheek bones and a little on your cupid's bow to and some glow to your skin.
8.
Any bronzer will work for contouring
Obviously this picture has been edited!
A common misconception is that any bronzer will work to contour your skin, when in reality only some shades will work and specifically MATTE ones. Contouring should be done with a brown or taupe, cool toned bronzer, blush or even eyeshadow to help with allusion of having shadows on the areas you want to make appear smaller. Applying an orange or shimmery bronzer will give a fake look to your skin and will be obvious and draw attention to those areas!
9.
All contouring is the same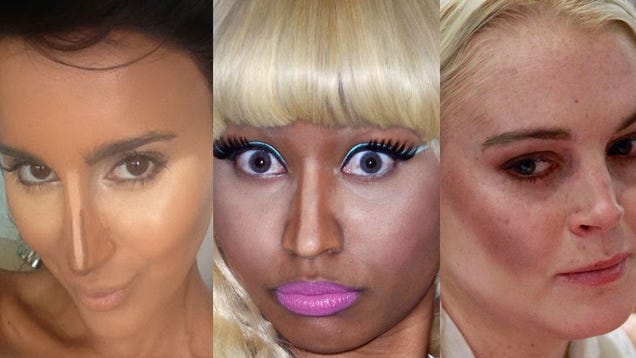 I think something many people still don't know is that not every one has the same shaped face or nose to be able to contour the same way. Different shapes need different types of contouring. If you need help learning more on contouring for your face shape, you can check out my post here for more on that!
10.
You can share makeup as long as the other person is hygienic
Most of us assume the dangers of sharing makeup only applies to strangers or unhygienic people. But the reality is, you can even get an infection from your mother! Areas like the eyes and mouth are areas that are infested with bacteria and germs that could cause infected when transferred! Things as bad as traces of feces can be transferred onto makeup! Instead, use clean brushes if you'll share powder products and wipe lip products with a tissue then use a clean makeup brush if you have to share, but try to avoid sharing as much as you can.
11.
Nude lipstick is the same shade for everyone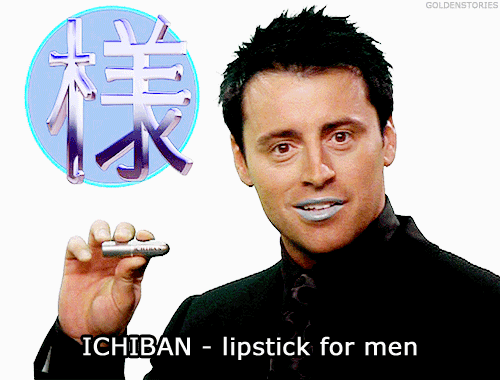 Nude lips have become a very hyped up trend in the past year and one of the most hyped up colors is by far Mac's Velvet Teddy. Now, while nude lipsticks are probably a very universal color, it's not going to be 'nude' or 'skin tone' on everyone. If you are looking for a nude lipstick that will actually look nude on you, lean for one that has the same undertones as you do (pink or more brown toned).

12. Foundation should be a shade lighter than your skin tone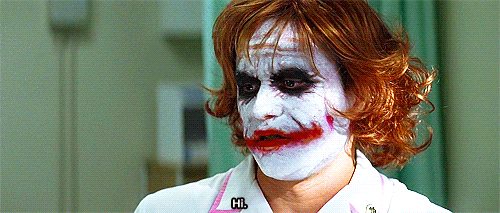 This has always confused me. Makeup should enhance your natural features and you definitely shouldn't look like you have a mask painted on your skin. Foundation should match your neck to make your skin look unified.
I hope you all enjoyed this post! I do hope you all understand that their is no wrong and right in makeup and these are just a few makeup myths I thought I'd clear up! The most important thing is that you do what makes you happy!<3 Leave a makeup myth you believed in the comments below!
Until Next Time,