aboutme, basics, beauty, color, easy, eyeshadow, facts, fun, hacks, help, life, makeup, new, tips, tutorial
3 Quick & Easy Makeup Looks
2/05/2015 06:01:00 PM
Hey everyone!
Today is the last day of makeup week! You've learned everything you need to know from your face to the products you should have and now I'll be showing you some quick and easy makeup looks!
Neutral Eye
This look is simple and classic and can be worn on a daily basis! You could even change up the shades and use this as a guideline.
Things you'll need:
1. 3 Neutral shades (a dark shade, a lighter shade and then the lightest shade)
2. Black or brown liquid liner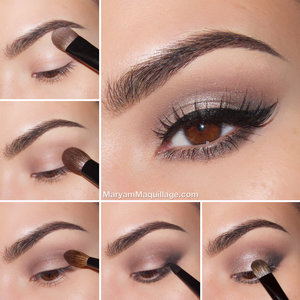 There are many methods to applying eyeshadow, but the way I do it (and I feel like its the easiest to insure your eyeshadow blends well) is as the following:
1. Apply the middle shade (transition color) all over the crease area.
2. Apply the darkest shade to your outer crease.
3. Blend them together with a clean brush.
4. Apply the lightest shade (shimmery shade or matte) to the lid.
5. Blend together with a clean brush or go in with a little of the transition color if it needs more blending.
6. Add more of the crease color if you want a deeper look.
7. Apply lid color to brow bone (or any light shade to highlight the area)
8. Apply liquid liner and wing it out (optional)
9. Finish it off with some mascara!
Classic Pin Up Look
A classic look that could be worn day or night! Very easy look to achieve and will always be in style!
Things you'll need:
1. Matte brown and light shade (both optional)
1. This is an optional step, but if you would like to deepen your crease, apply brown eyeshadow in the outer crease and light nude shade to the lid and brow bone.
2. Apply liquid eyeliner with a wing (you can go more dramatic for a night time look!)
4. Apply a nude eyeliner to the waterline to brighten and open up the eyes.
Simple Smokey Eye
I know this may seem intimidating to some people, but trust me, it's very simple to do a classic smokey eye!
1. Black matte eyeshadow and metallic silver eyeshadow
3. Black pencil liner and nude liner (optional)
1. Apply metallic shade all over the lid.
2. Apply black eyeshadow intensely in the outer crease, slowly blending it out to the crease to blend into the lid color.
3. Apply a light shade to your brow bone.
5. Apply black liner to your lower lash line and smoke it out. You can apply a nude liner to your water line to open up your eyes more.
* Apply an eyeshadow base/eyelid primer/concealer before you do these looks to intensify the colors and help them last longer!
I hope you all enjoyed this post and makeup week! Next week will be a Valentine's Day themed collaboration week!
Until Next Time,